I like it fast and dirty...which is probably why I like comics. But I also like stories. So here are some comics and some personal stories to go with them. Feel free to skip to the pictures :)
Our first apartment was like a paper shack, so when we moved to our second apartment, we picked a place with nice thick cinder block walls. But we were still woken one night to our neighbor shrieking like she was having one hell of an orgasm. Or a fight. I'm still not sure which, because the only actual words we could make out were the man shouting, "Pat, no! Not the washing machine!"
xkcd http://xkcd.com/316/
I led a rather bookish life until I met my husband in high school. I knew about sex from reading but hadn't had the more streetwise stuff explained to me (I didn't get why Dr. Pepper came in bottles. *shakes head sadly* It's because his wife left him). My husband was happy to explain this, 69, and more.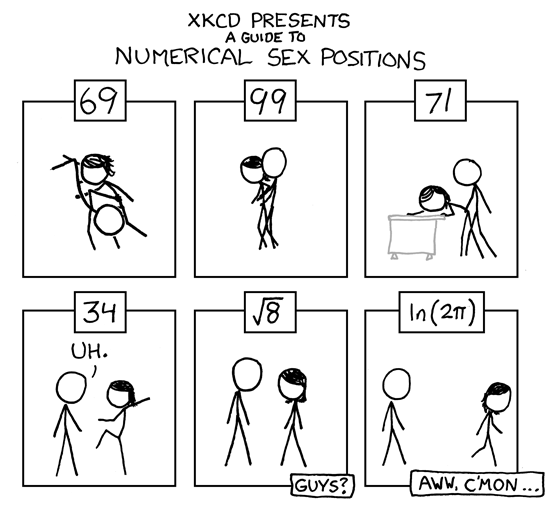 xkcd http://xkcd.com/487/
Hubby & I did a short stint with social gaming with a group of friends early in our marriage. If this had happened, it might have changed the dynamics a bit.

xkcd http://xkcd.com/708/
Here's something I'd love to try the moment we get a GPS for a present :) My favorite combination of sex, humor, and love.

xkcd http://xkcd.com/201/
What about you? What's your favorite combo of sex and fun?
Now available,
Heart to Heart, 10 Touching Contemporary Romances for .99
When it comes to falling in love, nothing beats a tough man with a tender touch. He's sexy, he's intriguing, he's confident, he's loyal, and you'll enjoy every pulse-pounding moment you spend with these heroes after your own heart:
Hot Off the Press: Leigh inherits her family's newspaper, but she must work with her enemy, David, to save it.
Minding Jackson: When her world is rocked by tragedy, Jane discovers that the man she least expected is the one who will help her weather the storm.
Love Restored: Rachel's passionate night in Monaco with Alain may be her company's downfall—or the best move she ever made.
Once Upon a Wish: A California surfer and a small-town pharmacist put an old fairy tale to the test.
The Unquiet Heart: Air Force Captain Libby Comerford must prove her mettle when she arrives at Misawa Air Base in Northern Japan, but she clashes—in more ways than one—with handsome Major Kojiro Yoshida.
Summer Promises: Actress Carly Foster says she's done with the "drama trauma" of theatre romances—famous last words when she meets Asher Day.
No Secrets in Spandex: Allegations of drug use surround bike racer Jacob Hunter, and reporter Ariel Hays is ready to do anything to get that story—except reveal her own secrets.
Edie and the CEO: Championing the little guy gets Edie Rowan in delightful trouble with sexy CEO Everett Kirk.
The Marrying Kind: Professor Jane O'Hara takes a sabbatical to follow her bliss to a horse farm, but she doesn't expect to find it with the owner's son, Mark Hannon.
Romancing the Seas: Pippa Renshaw swaps her job in a prestigious London restaurant to head-chef on a cruise ship, where a mix-up means she rooms with her boss.
Sensuality Level: Sensual
See more at my website
.